Sort by
Featured

Best selling

Alphabetically, A-Z

Alphabetically, Z-A

Price, low to high

Price, high to low

Date, old to new

Date, new to old
What is
a
wooden hair stick?
Wooden hair sticks (or wooden hair forks) are hair sticks (hair forks) that are carved or pasted with wood as the main body. The wooden hair stick has an antique meaning, with the feeling of "clear water out of the hibiscus, natural to carve", and the advantage of the wooden hair stick is that it is easy to maintain, the disadvantage is that it is difficult to carve and There are fewer shapes.
Wooden hair sticks are favored by many people because they are gentle on the hair and scalp, and they offer a secure hold without damaging the hair. They are also eco-friendly and sustainable, as they can be reused many times, making them a great alternative to disposable hair accessories like elastics and pins. The natural beauty of the wood grain and the unique design of each wooden hair stick make them stylish accessories for both casual and formal occasions. Wooden hair sticks are perfect hair accessories for buns. It is durable and not easy to break. Most of them are black, and also very easy to match with other accessories.
Difference between hair stick vs hair fork. A hair fork is a hair accessory that is similar to a hair stick but with multiple "prongs" rather than just one, which helps hold buns and updos more easily without damage. A hair stick is a hair accessory that is with just one prong. 
The Benefits of Using Wooden Hair Sticks
1. Eco-Friendly and Sustainable Materials

Wooden hair sticks are made from natural, renewable materials, which makes them a more environmentally friendly option compared to metal or plastic alternatives. Unlike plastic and metal hair accessories, which are made from non-renewable resources and can take centuries to decompose, wooden hair sticks biodegrade over time, reducing their impact on the environment.


2. Supporting Sustainable Practices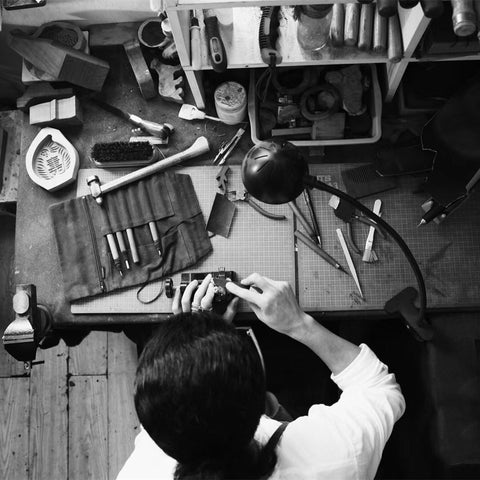 By choosing wooden hair sticks, you are also supporting small businesses and artisans who prioritize sustainable practices. Many wooden hair stick creators are committed to using responsibly sourced wood from well-managed forests or reclaimed materials, ensuring that their products have a minimal ecological footprint.
3. Gentle on Hair

Wooden hair sticks are not only beautiful but also gentle on your hair. They do not have any sharp edges or rough surfaces, which can cause breakage or damage to your hair. The smooth, polished finish of wooden hair sticks ensures that they glide easily through your hair, reducing the risk of tangles and hair breakage.


4. Hypoallergenic Properties

For those with sensitive skin or allergies, wooden hair sticks are an excellent choice. Wood is naturally hypoallergenic, so using wooden hair accessories can help prevent irritation and discomfort caused by metal or plastic alternatives.
5. Timeless and Unique Designs
Wooden hair sticks come in various styles, colors, and designs, making them a versatile accessory for any hair type or occasion. From simple, minimalist designs to intricate, hand-carved patterns, there is a wooden hair stick to suit every taste and style. The natural beauty of the wood grain ensures that each hair stick is truly one-of-a-kind.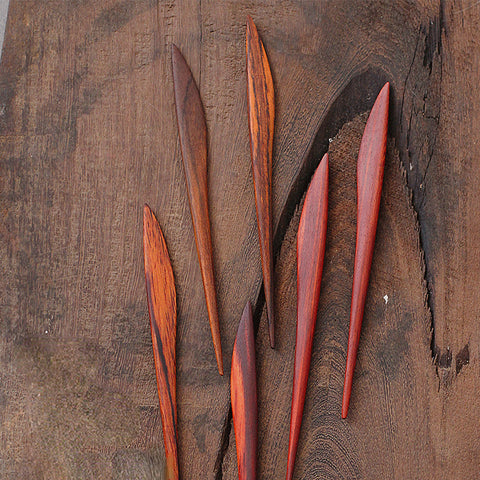 6. Easy to Use and Style

Wooden hair sticks are not only beautiful but also easy to use. They can be used to create various hairstyles, from casual updos to elegant chignons. The lightweight nature of wooden hair sticks makes them comfortable to wear throughout the day, and the durable material ensures they can withstand daily use.
The material of the wooden hair stick
There are many materials for making wooden hair sticks. The low-end ones are peachwood and boxwood, the middle ends are ebony, red sandalwood, and green ebony, and the high-end wooden hair sticks are mainly small-leaf rosewood and yellow rosewood.
How to Take Care of Your Wooden Hair Sticks
Hair sticks need to avoid prolonged bathing. Do not wipe with alkaline water, alcohol, or organic solvents.

If there is oil or sweat on the surface, you can gently wipe it along the wood texture with a cotton cloth, and after cleaning, it should be placed in a dark place to dry.

Try not to come into contact with hard objects to avoid scratches caused by excessive collisions.

Touch and play with your hands often, and the wood will become shinier.

If the hair stick accidentally touches the water, the wood will lose its luster and appear whitish. Don't worry, at this time you just need to gently rub it with your hand or wipe it with a cotton cloth, it will absorb enough oil and become darker, so it will restore luster.

In the early days, there will be traces of color, do not panic at this time, because this is the pigment on the sandalwood, which is a normal phenomenon, not a fading color.