Sort by
Featured

Best selling

Alphabetically, A-Z

Alphabetically, Z-A

Price, low to high

Price, high to low

Date, old to new

Date, new to old
What is Chinese Hair Stick?
Chinese hair sticks, also called Chinese hairpins, have a long history in China. In ancient China, When men and women loved each other, the woman would take a hairpin from the hair to give to the man she loved. A man also bought a hairpin to give to his beloved woman when he wanted to express his heart to a woman. The more expensive the hairpin, the more it can show its sincerity. So the hairpin has been a precious symbol of love.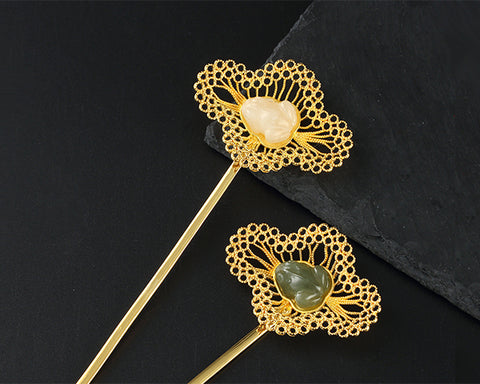 History of Chinese Hair Stick
Hairpins are a type of jewelry used to hold and decorate hair. The Ci Hai has the explanation: A hairpin is a long needle used by the ancients to insert a bun or a crown in the hair. Later, it specifically referred to jewelry for women with buns. Ethnic minorities in China have a traditional custom of using hairpins to hold and beautify hair. Its hairpin has a wide variety of hairpins, a long history, and strong national characteristics. It contains rich cultural connotations. In modern times, with people's hairstyles changing, Hairpins have lost much of their inherent significance among the Han Chinese. And gradually decaying. But it is still prevalent among ethnic minorities. The Zhuang and Yao people in Guangxi have the custom of beating copper drums to pray for the New Year during the Spring Festival. Unmarried women during the Spring Festival often beat copper drums with silver hairpins along with their hair braids. He also gave the silver hairpin as a promise to the intended people present to take it in. It is the most precious gift between men and women. After marriage, the husband will return the silver hairpin to his wife and insert it back into her hair. Pray for a happy life, white head, and old age.
Different types of Chinese hair Sticks
Classified by the main body
1. Single stick hairpin
A single stick hairpin is a single stick-shaped hairpin, also called a hair stick in a narrow sense, about 5 to 9 inches long. Usually made of wood, metal, jade, etc. Simple and easy to use, single-stick hairpins are the first choice for daily use.
2. Forked hairpin
A forked hairpin is a type of hairpin consisting of two prongs. It is similar to the hair clips. Made into two prongs is convenient for insertion. Forked hairpins developed from the single stick hairpin, and beginning in the Spring and Autumn Warring States Period, monarchs made hairpins from ivory, tortoiseshells, and gold and silver. What the forked hairpin and the single stick hairpin have in common is that they can both be used to curl hair, and they can make flowers, birds, insects, fish, birds, animals, dragons, and phoenixes shapes on the head.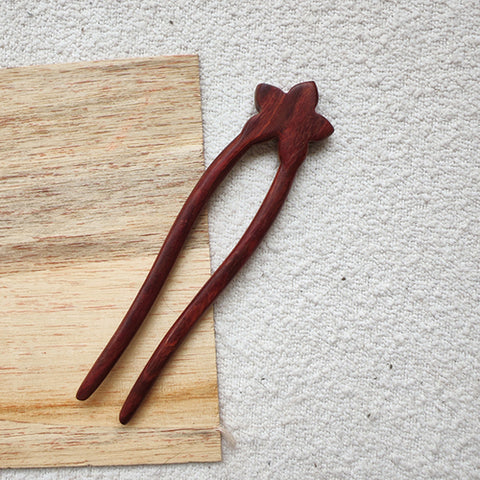 3. Hair crown
The hair crown consists of a crown and a single hairpin. "Crown" is the general term for ancient hair decoration, although it was mostly used by men in ancient times, the people who can carry hair crowns are some nobles, and different hair crowns can also represent different identities and statuses. But in modern times, there are also many beautiful female crowns.
Classified by material
1. Jade hair stick
Jade hairpins, also known as jade scratching heads. It is the most complete variety and the largest number of Western Zhou jade ornaments. The jade hairpin is generally conical and consists of two parts: the head of the hairpin and the handle of the hairpin.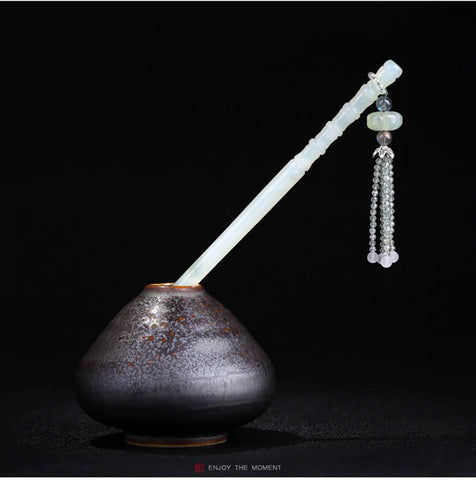 2. Metal hair stick
Metal hair sticks are mainly made of gold, silver, copper, and other materials. It is generally common to combine colored metal flower pieces as the main material. The advantage is that the material is cheap and easy to use, and the shape is more convenient and changeable. The disadvantage is that it is easy to oxidize and fade easily.
3. Ceramic hair stick
Ceramics is a special material, very exquisite, ceramic hairpins are heavier than ordinary metal hairpins. The downside is fragility. Be very careful when you use it.
4. Glassware hair stick
Glassware is a vessel or handicraft made from a pigmented glass raw material. Glassware, also known as "colored glaze", is a kind of artificial crystal. The production of Glassware in China began around the end of the Yuan Dynasty and the beginning of the Ming Dynasty. Chinese glass is a combination of ancient traditional culture and modern art, its glittering brilliance, changeable and magnificent, is the exquisite, delicate, and subtle embodiment of oriental people, and is the integration of thought and emotion and art.
5. Acrylic hair stick
Acrylic, also known as PMMA or plexiglass, is chemically known as polymethyl methacrylate. It is an important plastic polymer material with good transparency, chemical stability and weather resistance, easy dyeing, easy processing, and beautiful appearance, and has a wide range of applications in hair sticks.
6. Resin hair sticks
Resins are generally considered normal metabolites or secretions of plant tissues. Resin flowers are a handicraft work that can be combined with metal flower pieces to make various resin flower hairpins.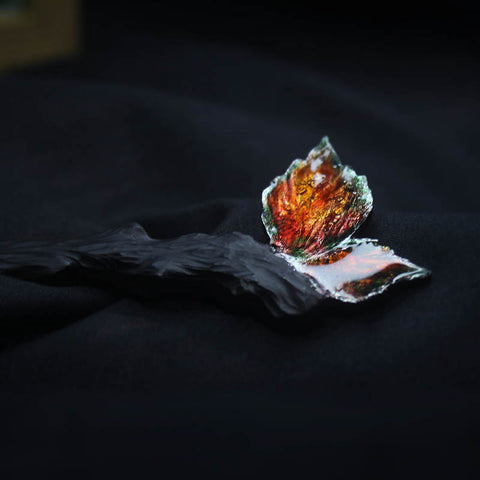 7. Silk hair sticks
Silk hair sticks are flower hairpins shaped by dyeing, cutting, or folding fabrics. This kind of flower hairpin can be shaped closer to the actual flower and grass.
8. Wooden hair sticks
Wooden hair sticks use wood as the main body for carving or pasting plastic hair sticks. Sandalwood is usually used as raw material. Wooden hair sticks are durable and not easy to break and are very popular nowadays.
9. Cloisonné hair sticks
Cloisonné is one of China's famous special metal crafts, which is a magnificent and colorful art and craft that is fired by attaching various colors of enamel to copper or bronze tires. Most of the enamel glazes used are mainly blue, so they are named "cloisonné".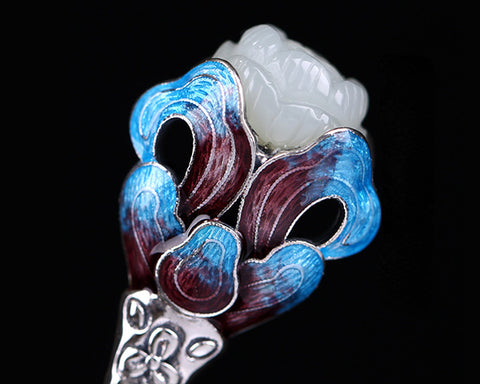 10. Diancui hairpins
Cui is the feather of the kingfisher. Diancui first made a base with different patterns of gold or gold medal, and then carefully set the bright blue feathers on the back of the kingfisher on the seat. Diancui craftsmanship is a traditional Chinese gold and silver jewelry-making process. It is an auxiliary work in jewelry making, playing the role of embellishment and beautifying gold and silver jewelry. Jewelry made with the diancui process has a good sense of luster and bright colors, as long as the use of the process of protection, gloss, and color can be preserved for a long time. Now goose feathers, ribbons, and other materials can be used to replace kingfisher feathers to make some jade jewelry, and the craft has been inherited.
11. Duobao hairpin
Duobao hairpin is a kind of hairpin made of metal wire, shell, coral, pearl, dot green, and other materials, using filigree, inlay, winding, and other processes.